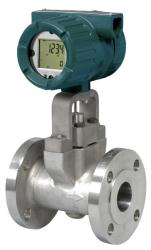 Uses SSP (Spectral Signal Processing) technology which accurately senses vortices in the low flow range, providing outstanding flow stability.

Three Types

digital YEWFLO Standard Application

digital YEWFLO Multivariable

digital YEWFLO High process temperature and cryogenic version

Self-diagnosing

High Accuracy: +/- 0.75% of Reading (Liquid) (+/- 0.5% of Reading: Typical Accuracy/ Non-Guaranteed) +/- 1% of Reading (Gas, Steam)

Wide Process Temperature Range: -196DegC to +450DegC.

Sizes: DN 15 to DN 400

Maximum allowable pressure: 42 MPa

Simple Parameter settings

Clear, Concise Indicator:

Dual output for Analog / Pulse

Alarm output, Status output (Flow switch) An alarm signal output, in case alarm occurs.

No moving parts stainless steel detector: High durable and safety.

Signal cable length is up to 30m.

Explosion proof construction, TIIS / FM / ATEX / CSA / SAA (Intrinsically safe), IECEx.
Enquire Now