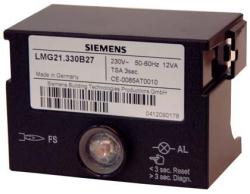 AGA Certificate 5829
Class 2A or 2Ca
LMG... are designed for the startup and supervision of 1- or 2-stage gas or forced draft gas / oil burners in intermittent operation.

The flame is supervised with an ionization probe or a UV flame detector QRA... (with ancillary unit AGQ2...A27).

LMG21... / LMG22... in the same housing replace burner controls LGB21... / LGB22...
Enquire Now